Frequently asked questions
How long should my order take?
---
SE QLD customers should receive their order within 5 working days. All other orders require land freight and should take around 10 working days.
---
What if parts I order are out of stock?
---
We will get that part made for you as quick as possible and get it shipped.
---
Returns policy
---
We just cannot see you not loving your pit, if for some reason you dont, you can ship it back to us within 30 days and we will give you your money back.
---
Assembly
---
These pits are very heavy but easy to assemble. Please use 2 strong people to assemble your fire pit after watching our instructional video. Once assembled do not move around with the bowl in place. Remove bowl then move your tripod into place making sure the legs dont slide out of the top hat.
---
Construction
---
We want your pits to last a long time! We have made the bowl from 6mm carbon steel and the frame from a heavy guage steel with a high temperature powder coating. We use Wild Wax to protect the bowl which are bare steel.
---
Shipping
---
Please contact us for shipping details.We will deliver to customers in SE QLD. All other areas require road freight. Please see our shipping page to get a quote.
---
Owners manual
---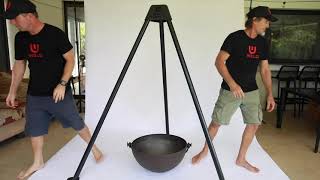 ---
What comes with the fire pit
---
You will get a grill and a cover. We have polished the bowl with our Wild Wax. We recommend you regularly apply our wax to protect the bare steel.
---
---